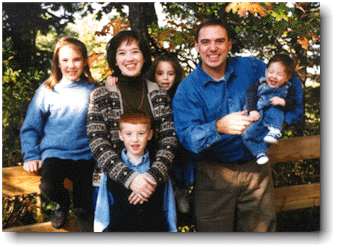 As a researcher for Texaco's Advanced Technology Group for almost ten years, I was responsible for finding new computer technologies that could be put to use throughout the corporation. Over the years, I researched virtually every new computer technology that came on the market, from virtual reality to multimedia, from speech recognition to language translation.
When the World Wide Web appeared on the horizon, I developed Texaco's web site (http://www.texaco.com) to demonstrate how the web could be used for global communication with customers, investors and the public. At that time, I saw the great potential for this technology to be used to encourage people in their faith.
I received a degree in Business Administration from the University of Illinois in 1985. I committed my life to Christ in 1987 and have ministered one-on-one for over a decade. I went into full-time ministry in February, 1995 and created my first Internet outreach that year called The Hall of Faith, which grew to reach 800 people a month from 72 countries.
In October, 1996, I was ordained as a minister by NorthPointe Church in Richardson, Texas and served and served as their Associate Pastor for one year.
As the Internet outreach continued to grow, I created Eric Elder Ministries to focus on sharing the message of Christ over the Internet full-time. The first project of this ministry was to create a new web site called The Ranch to be a place of ministry as well as a model for others who want to use the Internet to share the message of Christ.
In order to help others create their own outreaches, I created Internet Media Resources. Our purpose is to help you make the most of the Internet.